Take Control of Your Collections With Collbox Debt Management System
Collbox is a cloud-based debt collection solution designed for companies of all sizes. It features loan management, business-debt management, consumer-debt management, resolution matrix , field tracker and reporting within a suite.
Allocation from banks/ NBFC's can be easily imported from traditional excel and will be automatically allocated to telesales, team leader, team, area, pin codes, field collectors for a particular portfolio thereby reducing the tedious task of manual entry. Multiple portfolios can be uploaded to use different or common resources, you can easily allocate pin codes/area as per the portfolio too and work jurisdiction and that can be followed by tele follow up / trails to collection from a single software. The personalized Collection Activities/ Collectors Tracking feature helps collection agents to organize their own individual activities. The intensive reports and performance analysis feature helps the supervisor or manager to monitor their collection agents and processes.
The very nature of finance is that it cannot be profitable unless it is significantly leveraged… and as long as there is debt, there can be a failure and conta– Alan Greenspan
Check or change account status, Post transactions. Send messages. Schedule auto workflow messages to the workforce. Assign follow-ups. Close or reconcile accounts. Write notes. Use the uniquely functional "PBR" to get the status of virtually any conditions to your process. Combine the power of batch processing with fast bulk status update, bulk recon posting using user-friendly methods.No downtime or night processing is required for Day End functions. The performance is quite remarkable. Maximize efficiency and productivity with this speedy, simplified, work-saving approach and enhance your business success.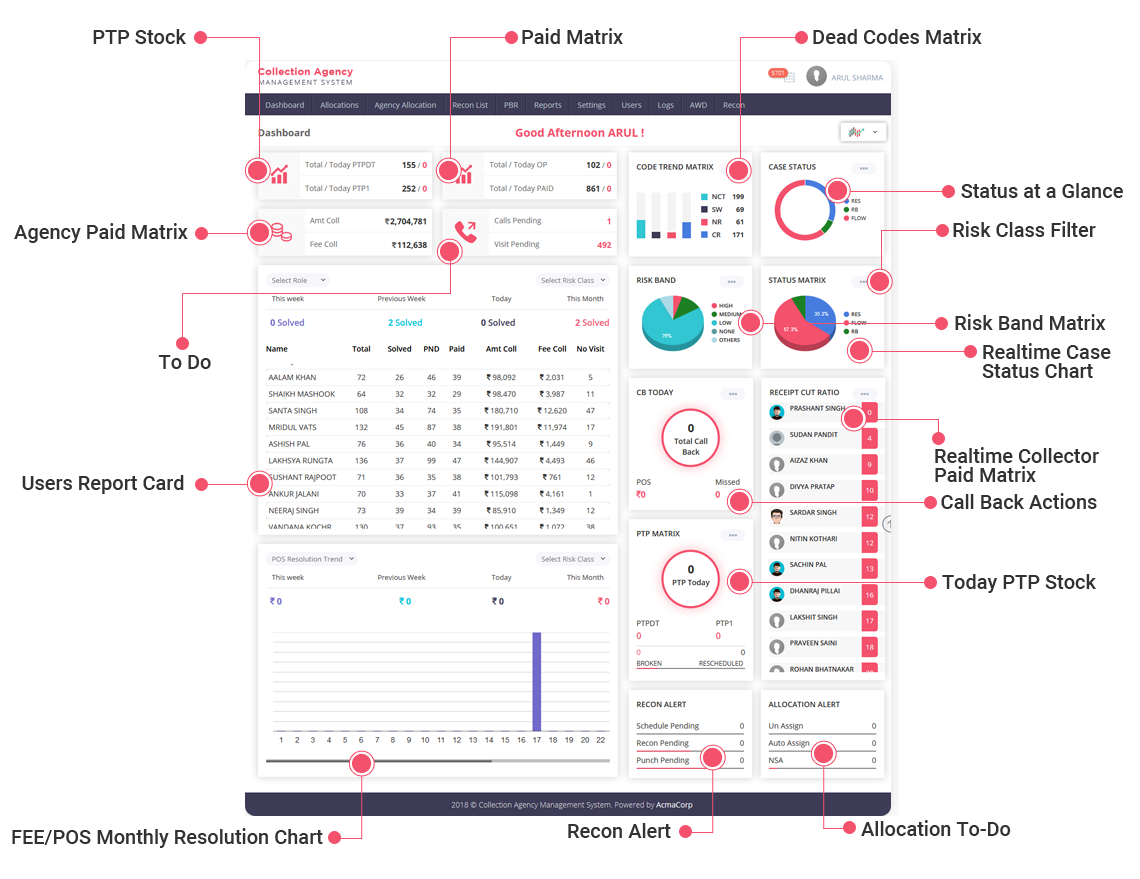 With Collbox fully automated modules, you can schedule tasks to run automatically. All you have to do is set the functions and other parameters, and CAMS! performs the tasks at the scheduled times with no further intervention! Perform auto workflow distribution, reminders , follow ups and more during off-hours to free up manpower and computer resources and focus on collection!
We built Collbox ! To solve your daily work processes and to automate your recovery business to manage / track and enhance the resolution graphs for the agency growth. Take a test drive today or Call our experts on 922 222 8989 for detailed personalized demonstration.